Today's machine learning is tomorrow's screwdriver
Fake Intelligence Online Summit 2019 gathered experts together with interesting AI presentations.  Professor of cybersecurity and computer science & Director of the Institute for Security, Technology, and Society V.S. Subrahmanian, from Dartmouth College in New Hampshire USA, believes that democratization of machine learning will be the future of AI.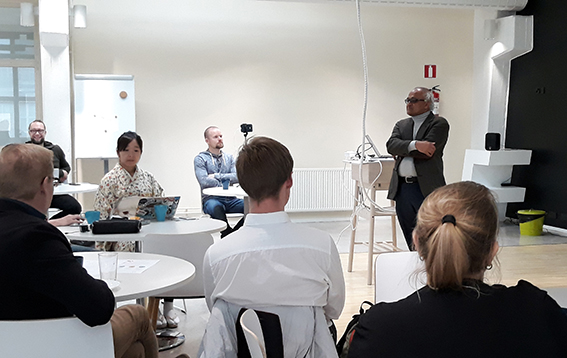 – This is the golden age of AI and it's because of huge advances in three things. First the advancement in machine learning which wouldn't have been possible without the huge advances in the gathering of data. We can see with the emergence of the third factor of the Internet of Things, that the amount of data that will be available in the becoming years, will be exponentially larger than what we have today, states distinguished professor Subrahmanian. He came to Pori Finland to talk about AI and Fake Intelligence from his perspective.
Subrahmanian believes this increase of data is going to feed even more sophisticated machine learning algorithms. And so, it's inevitable we have to use machine learning more and more to manage this ever-increasing amount of data.
White hats wanted
– We have ways to use the data, but we're not necessarily doing so. Part of the reason is, that the data available in the world today is sitting in various balkanized enclaves. There are people who own data, but don't share it for corporate, intellectual property and security reasons. And there are people who do share data, but people who would benefit from the data, don't know how to use the new techniques. Democratization of machine learning techniques is going to be the next big step, evaluates Professor Subrahmanian.
He believes that in the future anybody on the street can think of machine learning much the same way as a Philips screwdriver today; it's just another tool I can apply to my data.
– Democratization of machine learning will also, to some extent, spread the benefits of it so that it's not only for the few people who gather it all, he foresees.
AI has also become the solution for cybersecurity technology. Mr. Subrahmanian, as an expert of the field, sees that the number of cyber-attacks and cyber malware will increase exponentially in the future. The need for white hats – the good hackers – will increase, but AI has a crucial role in the fight against cyber-attacks.
What is Fake Intelligence?
– To me Fake Intelligence is about the use of AI for deceptive purposes, whether it's to carry out acts of deception or to detect acts of deception. And deception as we know – has historically been practiced since the beginning of man and possibly even animals have engaged in deception. Deception is deeply rooted in all forms of life, explains Professor Subrahmanian.
Watch all the Fake Intelligence presentations and read full papers
Tilaamalla uutiskirjeen saat uutiset ja tapahtumat uunituoreena sähköpostiisi ja pysyt ajantasalla.