Robocoast EDIH consortium is one of the four European Digital Innovation Hubs in Finland
The European Commission has selected the Robocoast EDIH consortium as one of Finland's EDIH European Digital Innovation Hubs, of which there will be four in Finland. In total, 136 EDIH organisations were selected in Europe.
EDIHs, or European Digital Innovation Hubs, act as low-threshold contact points for companies to find the necessary skills, training, expert resources, partners or development environments to deploy different types of digital solutions and modernise their operations.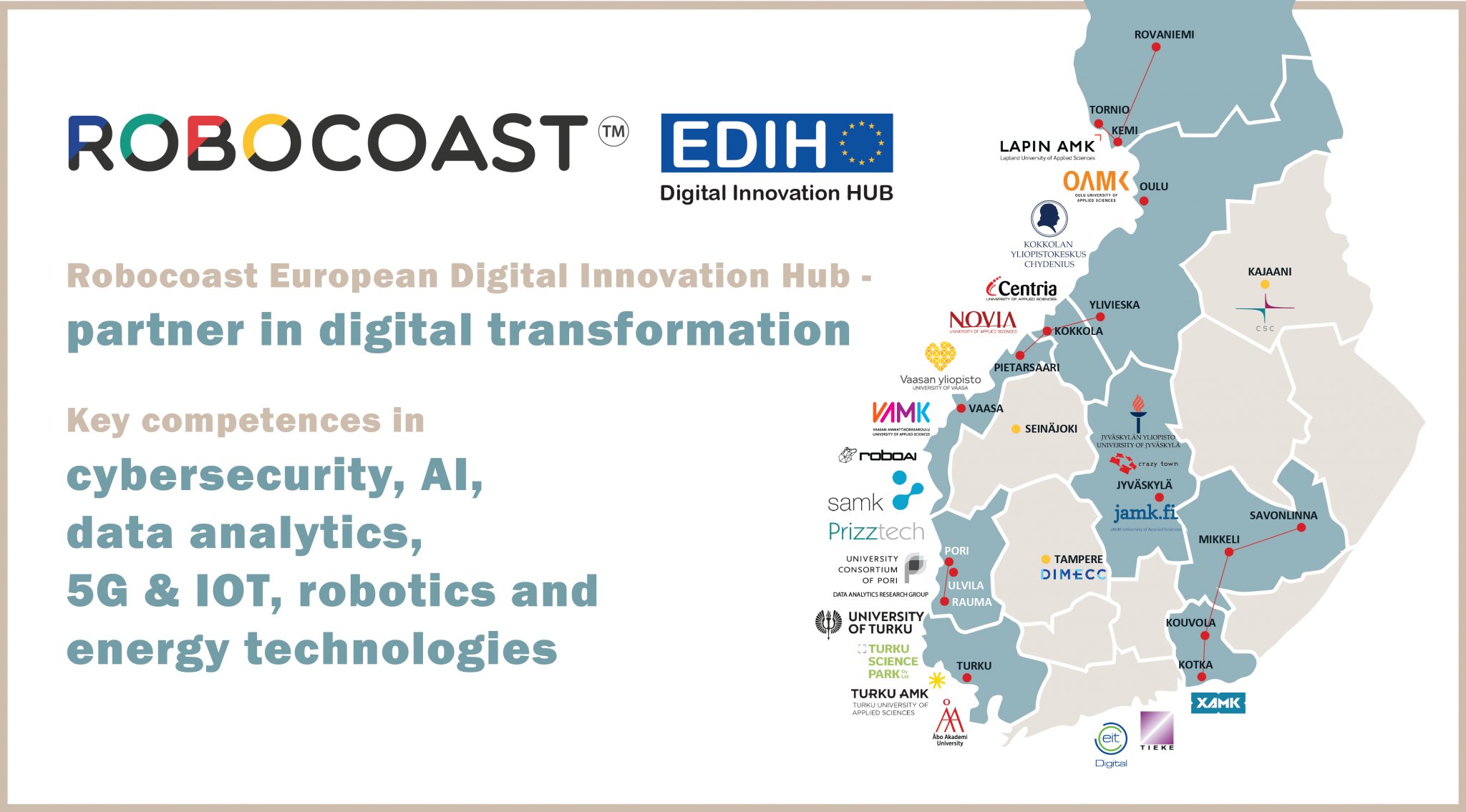 The Robocoast EDIH consortium includes 15 Finnish higher education institutions and two business companies from nine different regions. In addition, the Robocoast EDIH consortium is strongly networked with other EDIH organisations as well as with the national actors relevant for service provision; CSC, EEN, DIMECC, EIT Digital, Tieke and Crazy Town.
From a technology perspective, the Robocoast EDIH consortium's strengths include cybersecurity, artificial intelligence, automation and robotics expertise. The Robocoast EDIH consortium is coordinated by Prizztech Oy.
Satakunta University of Applied Sciences and University Consortium of Pori are involved in the Robocoast EDIH consortium. The absolute strengths of the Satakunta universities in the consortium are their expertise in robotics and data analytics and the RoboAI research and product development centre, whose resources are passed on by the Robocoast EDIH consortium to both Finnish and European industrial companies.
During autumn 2022, the Robocoast EDIH consortium will organise kick-off events in several locations to inform companies about EDIH services, the expertise of the consortium's universities and the opportunities offered by the development environments.
More information:
Mikko Puputti, 044 710 5343, mikko.puputti@prizz.fi, www.robocoast.eu
Pirita Ihamäki, 040 164 6339, pirita.ihamaki@prizz.fi, www.robocoast.eu
Petteri Pulkkinen, 044 710 3296, petteri.pulkkinen@samk.fi, www.samk.fi
Tarmo Lipping, 040 826 2860, tarmo.lipping@ucpori.fi, www.ucpori.fi