Entrepreneur works for strain relief – 3D printing to mitigate the lack of protective equipment
Joonas Kortelainen, one of the happy researchers of RoboAI, has given his own small input into the fight against coronavirus by donating 3D-printed ear strain relief bands to hospitals. A plastic strain relief is placed behind the neck and the strings of the face mask are tied on it. It will help to ease the strain on ears of those professionals working in protective equipment in healthcare.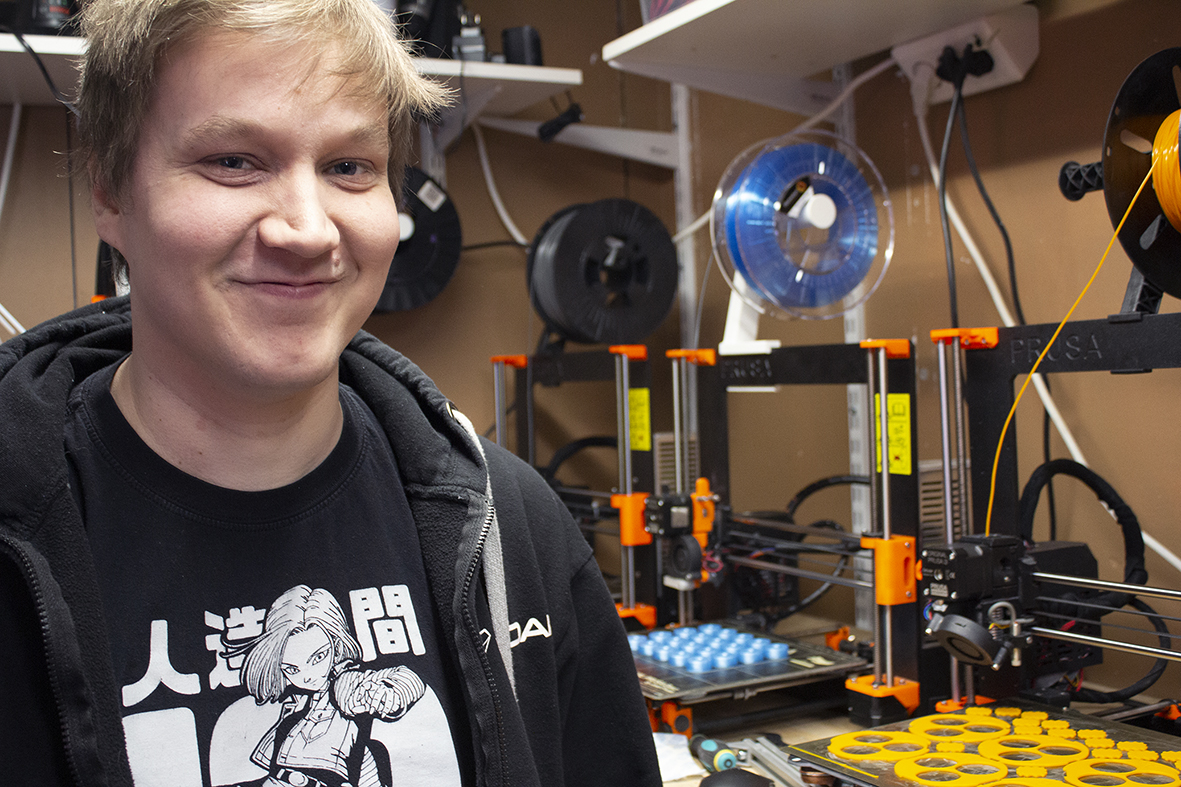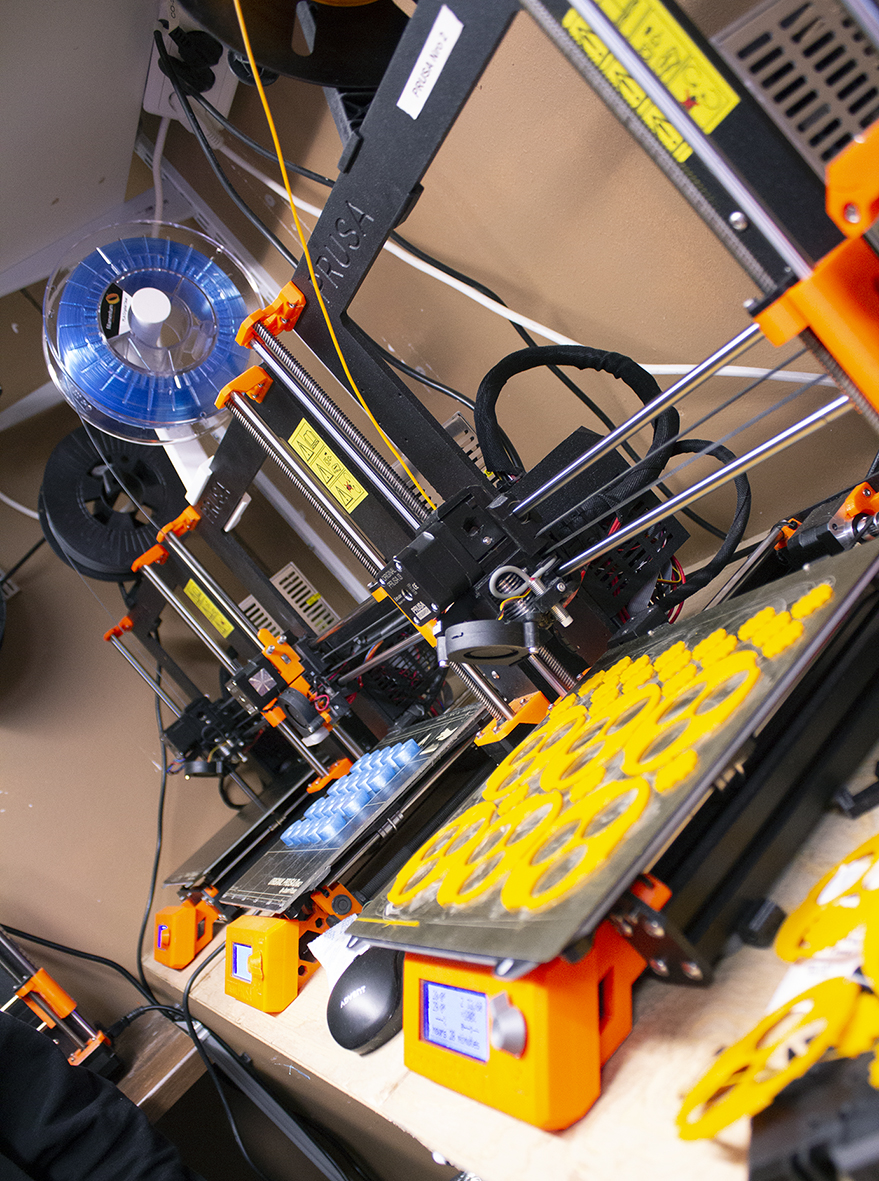 – The idea is that the customers model the printable objects themselves and I print them. I can also model the object myself based on the picture and measurements, the entrepreneur tells us.
– Currently ear strain relief bands have been delivered to Turku University Hospital, Kuopio University Hospital and Riihimäki for a mental health services unit. I have contacted many others, too, but they have not replied me. Maybe they have been suspicious of strain relief bands offered for free, Kortelainen chuckles.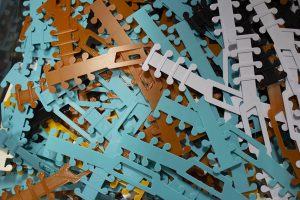 Besides ear strain relief bands, the entrepreneur is planning of printing and donating also plastic face shields. Enterprise Satatuote understood also the importance of voluntary work in this difficult situation and donated plastic film material for the production of face shields. 10 kg of PETG plastic and 75 metres of perforated elastic band have also been purchased.
– I found out that the face shields are critical protection equipment, and there may soon be a desperate shortage of them. Luckily, I can print them with my equipment.
Inspiration from innovations
Joonas is a part-time entrepreneur, whose one-man enterprise KolomeDee was founded in 2018. He ended up in the 3D world though his work as a researcher, when SAMK acquired a plastic extruder printer. A few years later Kortelainen bought his first printer for home, and that´s how it all started. In the project "New Innovations by 3D Printing Experiments" Kortelainen and his colleagues researched the utilization possibilities of 3D printing and provided valuable information on the topic with their experiments to the enterprises in the region.
– The extensive possibilities of 3D, which cropped up during 3D Aiko project, inspired me, and as one of the concrete aims of the project was to give rise to new companies, it felt like a natural thing to do, Kortelainen tells us.
The most typical printing range of a plastic extrusion printer is 250 mm x 210 mm x 200 mm, and that of a resin printer is 115 mm x 60 mm x 165 mm.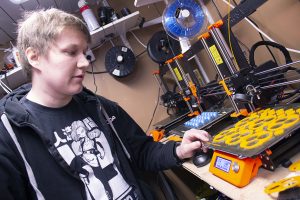 KolomeDee has a few regular customers, for whom products are printed on a regular basis, and orders arrive also by social media. Lately Kortelainen´s plastic extruder and resin printers have printed for example  a Star Wars light sabre, a tablet computer stand, a fuel cap key, different figures and miniatures for role plays, spare parts to e.g. kitchen cabinets, a work of art by an artist in Pori and a scale model of a building.
Small-scale entrepreneurship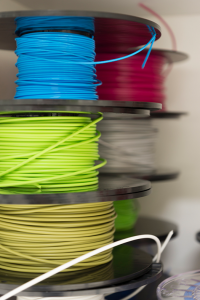 With current technology 3D printing still takes a relatively long time: the printing of a small figure may take a few hours, but printing a more complex-shaped scale model can take a few days. Kortelainen is content that through business activities he has a possibility to take a dive into the topic that really interests him. However, he does not consider doing it as full-time work.
– I´m really bad at defining a price high enough for my work. The facilities wouldn´t allow it either – my business activities already occupy two of our storerooms in our house. I have received some feedback from folks at home, Kortelainen laughs.
Read more about project 3D AIKO - New Innovations by 3D Printing Experiments
Tilaamalla uutiskirjeen saat uutiset ja tapahtumat uunituoreena sähköpostiisi ja pysyt ajantasalla.