The aim of STEM Centre is to motivate and encourage children and adolescents to practice and study mathematics, natural sciences and technology. Increasing cooperation between educational institutions regarding mathematical subjects and strengthening the learning and doing together between schools and the society is considered important. Thus, the image of Satakunta as technology region can also be consolidated.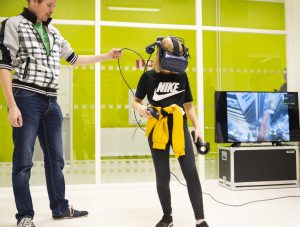 STEM Centre (science, technology, engineering and mathematics) offers all the children, adolescents and teachers in Satakunta a possibility to get inspired and strengthen their knowledge on science and technology. Versatile and inspiring study modules are a step towards more motivated learning.
The centre guides children and adolescents by practical doing and interesting learning experiences to STEM subjects, increasing their creativity, problem-solving skills and life management skills. STEM Centre supports children, adolescents and teachers at each stage, from early childhood education to higher education.
The operating model of STEM Centre
Children and adolescents and their teachers and instructors are reached by many concrete measures; study modules, excursions, competitions etc. This is how we try to stimulate interest as comprehensively as possible.
In early childhood education, STEM Centre organizes children diversified science-centred clubs, where they can get to know the topic according to their interests.
In basic education, the pupils come and visit STEM Centre laboratories where functional events with concrete activities take place. In addition, lower comprehensive school teachers are offered a possibility to participate in courses, where the topics can be e.g. 3D printing and modelling and introduction to robotics. Thus, the teachers can bring to basic education study modules that conform to the new curriculum.
Upper secondary education students are offered a peek to technology studies at university of applied sciences free of charge by online studies at Open University of Applied Sciences. The aim of the courses is to widen the students´ opinion of studying at university of applied sciences and give basic information about different technology studies. The ECTS credits gathered during studies can be included in future studies at university of applied sciences, with the goal of direct path to SAMK (Winnova and Sataedu).
Teachers at all levels are supported by courses that enhance professional skills. Courses are given as contact and online tuition to ensure comprehensive availability in Satakunta region regardless of time and place.
STEM Centre organizes different events and competitions, such as:
" My Day as an Engineer" school days for sixth-graders in Pori
Organizing Satakunta Mathematics competition for seventh-graders
Upper secondary school science weeks, Science cafes and Robotics Academy programming courses